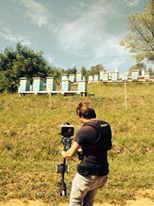 Accelerating Appalachia is honored to be featured in a new organizational trailer by the Business Alliance for Local Living Economies (BALLE):
This video includes Accelerating Appalachia founder and BALLE Fellow, Sara Day Evans, with Kimberly Hunter, Jennifer Flynn and Dayna Reggero, as well as the beautiful city of Asheville, our partner Warren Wilson College and inspiring sustainable students, and several 2013-2014 Accelerating Appalachia nature-based businesses: Bark House, Riverbend Malthouse and Echoview Farm and Fibermill.
Here at BALLE, the Business Alliance for Local Living Economies, we know that real prosperity is local by its very nature. It's in our place where we recognize that how we treat each other matters. That we are connected. From Seattle to Cincinnati, Asheville to Minneapolis, New Orleans to Buffalo, BALLE is celebrating, recognizing, supporting, and connecting the leaders of a new economy.

Narrated by BALLE Executive Director Michelle Long, this organizational trailer highlights a sampling of BALLE Local Economy Fellows in action in their places — James Johnson-Piett, Alfa Demmelash, Aaron Tanaka, Kimber Lanning, Carlos Velasco, Sara Day Evans, Malik Yakini, Nikki Silvestri, and José Corona — along with many other Localist leaders who together form the BALLE Community.
We're thrilled to host Judy Wicks, co-founder of the Business Alliance for Local Living Economies (BALLE) and author of "Good Morning Beautiful Business" at our upcoming 2015 Accelerating Appalachia Pitch Party in Asheville on May 14.