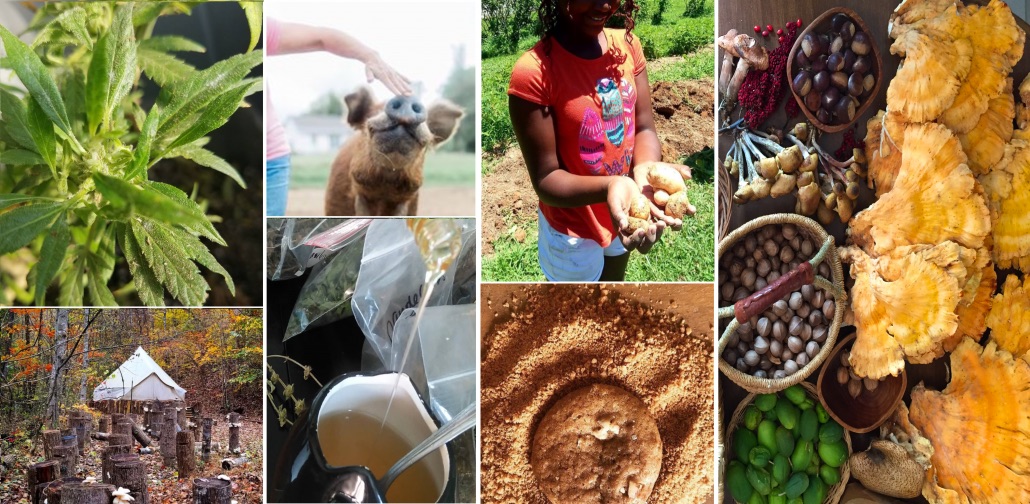 New programs for 2022!
Are you a Nature-Based Business (respectful of nature's wisdom) in food, beverage, textile, shelter, wellness and the outdoors looking to expand? Do you buy your raw goods such as grains, botanicals, produce, proteins, fibers, forest products from small growers? Reach out to saraday@acceleratingappalachia.org. We are providing one on one support until it's safe to host our in person trainings. We are also raising $1.2 M to develop and launch our new online incubator for idea and early stage nature-based businesses anywhere, including your living room or back 40 (if you have wifi out there! Our online program, Accelerating Agriculture, when completed, will focus on early stage Nature-Based Businesses with a mission to support multiple small growers, or are a food, textile or forest farmer producing a value-added product. NBB's understand that diversity of farmers and ownership is healthy for ecology and economy. Good farming (regenerative) improves soil, retains water, sequesters carbon, improves our food nutrition and helps rebuild rural communities.
Accelerating Appalachia, the world's first Nature-Based Business Accelerator, and our upcoming global online incubator, Accelerating Agriculture, envisions and supports a regenerative and inclusive economy built on the values of "Building Soil & Soul™". Accelerating Appalachia has been providing accelerator services to Nature-Based Businesses for almost a decade, sprouting up out of one of top most biologically diverse regions on the planet – southern Appalachia. We focus on basic needs businesses: food, clothing, shelter and wellness. Graduates of the program leave with sound business practices, concrete and tangible assets and tools to move their business models forward, and a lasting network that supports them beyond the programmatic sessions.
About Our Training
The Accelerating Appalachia program brings together mentors, peers, thought leaders and nature-based businesses over 8 weeks in the spring from April – May. Intensive sessions are held in 4-day blocks of training with 10 days between each 4 day session. Additional curriculum content is delivered over segments of training days. We provide a minimum of 1 year in follow on support.
Content is delivered with Accelerating Appalachia nature-based business development coaches, seasoned in working with businesses in a regenerative, inclusive framework. Over 40 expert advisors and mentors will join the program for relevant content areas, including 100 hours with experts in holistic business development, finance, accounting, new tax laws for small businesses, inclusive business practices, value chain development, legal structures, understanding investment, and more. These guest instructors not only deliver content, but advise each business, often developing lasting peer and mentor relationships with our nature based businesses. To round out the program, each year, participants can receive continued support from Accelerating Appalachia, depending on their needs. Participant individuals and enterprises consistently report that one of the most valuable aspects of participation in the program is the connection made with their peers and mentors.
Participants will learn how to best support causes and movements facing their communities and our world, but also spend time reflecting on personal and enterprise practices to further their interest in building stronger communities for all.
Learn More
Nature-based businesses and entrepreneurs from across the globe, but especially from Appalachia and the southeastern U.S. are encouraged to apply. We will consider other innovative triple bottom-line businesses with special consideration for entrepreneurs where mining, logging, textile and tobacco/farming industries are on the decline. We encourage all to apply and do not discriminate on the basis of race, religion, sex, age, national origin or ancestry, color, sexual orientation, gender identity or expression, marital status, parental status, or physical or mental disability.
The cost of the program is $2500, with lodging, breakfast, and lunch provided during sessions. Scholarships are available, contact us to learn more.
We encourage you to browse our website to learn more about our team, our accelerator graduates, press, advisers, and more. Connect with us on Facebook @ Accelerating Appalachia. And, contact us directly if you have questions: Sara Day Evans, Founding Director, saraday@acceleratingappalachia.org.
---
"The visionary women who run Accelerating Appalachia definitely make sure it lives up to the name 'accelerator'," says Grow Journey founders Susan and Aaron von Frank. "During the few months of the program, our business probably moved forward two years as far as planning, financial projections, team building, etc. ACAP forced us to get tightly organized, while providing the tools and resources to do so. We've also been introduced to a wide range of prospective impact investors that we might not have met otherwise. We can't recommend it highly enough to other nature-based businesses who are ready to accelerate."